Tacos have always been a mealtime staple around here, even from the earliest days of our marriage, usually making a weekly appearance on our dining room table.
With that much use, buying jar after jar of salsa can start to get a little expensive, so I quickly added it to my make-it-yourself to-do list to find a good salsa recipe that I could make at home. There were a couple salsa recipe fails, but this one has been a keeper.
The lovely thing about it is that it is so super simple, you can make it in the winter (when grocery-store tomatoes are less than appealing) and it makes a bunch of salsa all at once, so I only have to whip this up once a month or so. (I store them in smaller jars and stick the extras in the freezer until I'm ready to use them. Tastes just as good thawed as it does fresh!)
I favor sauce-y salsas (try saying that three times fast), as opposed to purist ones that are just chunks of tomatoes with some herbs thrown in, so if you're of like mind, then this is the perfect salsa for you, too: It's thick, smooth and the way I make it, it's pretty mild, but you can easily heat it up by adding more peppers and spices.
Take your tongue for a tango, and try this Saucy Salsa.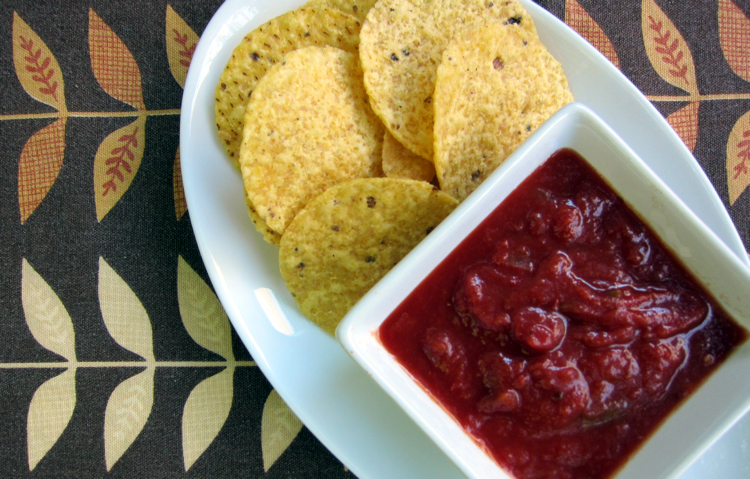 1 28-ounce can of tomatoes *
1 8-ounce can of tomato sauce
1 6-ounce can of tomato paste
1 ¼ cup onions, diced
¾ cup green peppers, diced
½ cup jalapeno peppers, diced (about 2 peppers)
¼ cup sugar
3 garlic cloves
1 Tbsp. salt
1 tsp. cumin
1 tsp. pepper
Mix all ingredients together in a 2-quart saucepan, and bring to a slow boil. Remove from heat and let cool before transferring to containers. Store in fridge for about a month or in the freezer for longer periods of time.
* I like to use diced tomatoes if I want it a little chunkier or crushed tomatoes if I want a smoother salsa. Both are tasty, but if you use diced, you might want to drain some of the water from the can first, so that your sauce doesn't get too runny. You can always add it back in to get to the consistency you like.
P.S. If you like this recipe, click here to pin it to Pinterest. You can also follow me on Pinterest here.
Related Posts
Make Your Own Pizza Sauce
Homemade Hummus Recipe
Recipe for Raspberry Vinaigrette Dressing