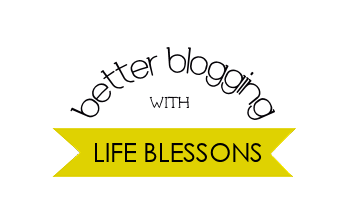 Last week, I talked about
how I find new readers for my blog
. This week, I'll be looking at the next step in that process, which is:
"HOW DO YOU GET READERS TO ENGAGE WITH YOUR BLOG AND STICK AROUND?"
This is a tricky one.
Think about, for instance, how many blogs you read. How many do you come back to you or just visit once? And of the ones you come back to, how often do you comment on them?
For me, I read a couple dozen (and there are TONS of blogs out there) and comment maybe on one or two a day—max. And usually the ones I comment on are the ones of my real-life friends. I hardly ever comment on strangers' blogs.
I heard once that with direct mail (ie, junk mail), if two percent of people who get the mail act on it, that is considered a successful campaign. Two percent! That's next to nothing and yet that's considered successful.
I try to keep that in mind when I am blogging, that it's only natural that you are only going to hear from a very small fraction of people who read your blog. It's not something to get discouraged over, because that's just kinda the way it is in blogging!
The only thing I think you can do, then, is try to make it easy for people to engage with your blog, to click around and find other posts, to dig deeper into your archives. Hopefully once they drill down into your content, they'll realize that your blog is super special enough to subscribe to and stick around.
So, that's why I have a related posts widget below every entry (available from
LinkWithin
) and why I always hyperlink similar posts when possible in my blog. I also have a navigational menu at the top which can help point people to subject-specific posts. Plus, on the few posts I have that get lots and lots of visitors (usually via Pinterest), I make sure to include a little blurb that points readers to other posts on the blog (such as "read more of my crafts here") and to the archives. (You can see an example of that
here
.)
I also make it a point to try to respond to most of the comments I get, because I feel like if people know that I care enough to reply, they'll be more encouraged to comment in the first place.
Sometimes, if the post merits it, I'll ask a question at the end of the post for readers to chime in on—like when I posted
my review of the study Bible I use
and asked what kind of study Bibles you like to use. That got a good bit of conversation going!
Do what you can to help people drill in to your content, and I think that you'll find that they'll be more likely to stick around once they have had a taste of your blog. And don't forget that even a small amount of interaction is worth celebrating!
This post is part of my Better Blogging series, where I respond to some of the most common questions that I receive about bloggin
g.
Feel free to read all of the posts in this series here.
Related Posts
Blog Housekeeping Update: My New Navigation Menu
5 Recommended Resources for Revamping Your Blog Design