I've been blogging here at Life Blessons for more than two years, and over that time I've learned quite a bit about growing and tending this little patch of the internet.
I guess all that effort—from learning more and more HTML to getting into a groove with my writing—is starting to show because lately, I've found myself fielding quite a few emails from readers with a variety of questions about my blogging techniques and my advice for other bloggers.
I thought that I'd take the time to address a lot of those questions and talk about a variety of blogging aspects over the next few weeks in a new series,
Better Blogging
.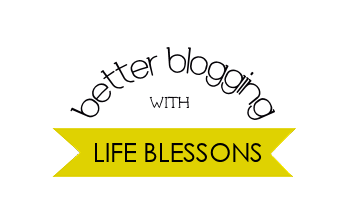 But first, before we jump right in to all the new material about blogging, I wanted to remind you of all the blogging questions I've already answered in the past as well as some of the blogging resources I've shared before:
Some Blogging Basics