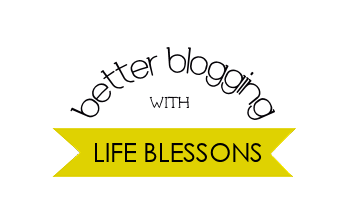 One comment I've received from a couple of readers who blog is:
"I'M FEELING DISCOURAGED WITH MY BLOG. I DON'T FEEL LIKE ANYONE READS IT, AND WONDER IF I SHOULD JUST GIVE UP."
You know what? I understand that sentiment all too well. And I think most bloggers—even the most successful of them—have all been at that same point, as well.
They say that most blogs don't make it to the one-year mark. When I first started out, I read that statistic and made it my goal not to give up before that anniversary.
Because so much of blogging can be discouraging and make you think you're wasting your time, there are lots of times when I've felt like giving up, especially when comments and emails are few and posts are plenty.
But the truth is that every blogger has been there. Most of the rockstar bloggers who are big have been around for a long time and it's taken them years to build up that kind of success. And even though there are some whose blogs have gotten a ton of exposure in a short bit of time, I firmly believe that's the exception rather than the rule.
The important thing is not to dwell on how many people read Pioneer Woman as opposed to your blog, but to accept that blogging is a process. I am sure there were days when Pioneer Woman herself thought about throwing in the towel. But look where she is now—because she stuck with it.
We have to stop dwelling on the things we can't control—like how many people visit a blog or leave a comment—and instead deal with the things we can control—like whether we're writing quality content and taking time to pen compelling stories. You might feel like you don't want to "waste" good posts if no one's going to read them, but you shouldn't look at it that way. Because you can always repost the best ones later, if you want. But when people come, if the best isn't already there, why would they stick around?
Start now making a blog that you're proud of, and eventually other people will catch on, too.
And don't forget that it's something you can pray about. It may not be full-time ministry, but blogging can affect people's hearts and souls. So if you're struggling for inspiration for blog posts, pray about it. Pray for your readers who visit your blog. Pray for ways to get the word out about those posts. The Lord cares about so many things. If your blog matters so much to you, don't you think it matters to him, too?
This post is part of my Better Blogging series, where I respond to some of the most common questions that I receive about bloggin
g.
Feel free to read all of the posts in this series here.
Related Posts
Are your prayers big enough?: The 'whys' and 'hows' of "praying big"
Ever wonder how God "talks" or how to "hear" him?