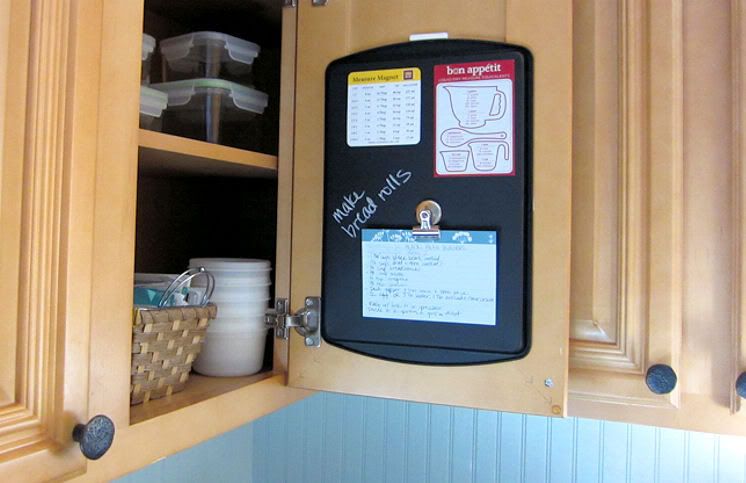 One of the things I've been attempting to do with
this new house of ours
is to come up with smart solutions to even the most trivial of problems. Because I figure since we're going to be here for awhile, I can finally invest the time to making those updates, those arrangements that make my life living here a little bit easier.
Case in point: Since I keep all my recipes on a hodgepodge of print outs, magazine clippings and handwritten index cards, they're pretty vulnerable to getting marred by wet countertops or drops of oil or any other number of accidental encounters that come along with making something in the kitchen.
So, in my old apartment, I had a little miniature magnetic board that I'd sit atop the microwave and pin recipes up to when I was whipping something up. It worked well, but was a little small and it wasn't really all that convenient sitting on top of the microwave.
With the new house I had a vision of creating a larger magnetic board that was housed inside one of my cupboards so that I could clip my recipes up at eye-length and then just close them behind a door when I was done with them. That idea came to fruition with a well-worn cookie sheet my dad had lying around in the garage, some spray paint and some Command tape.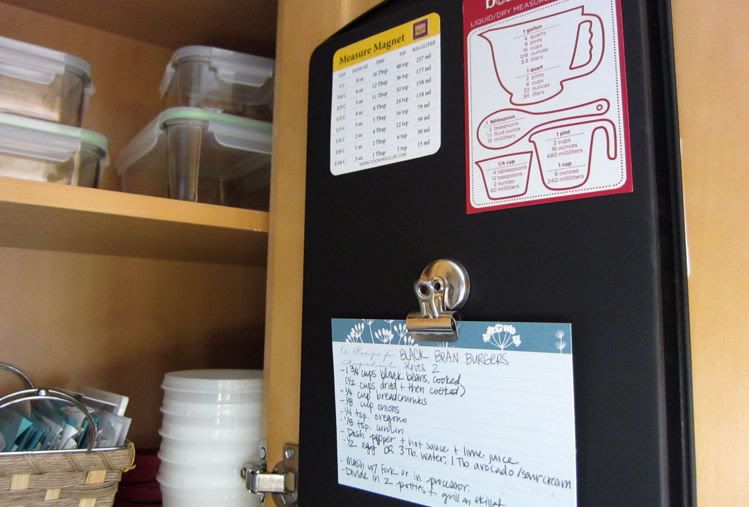 What you'll need:
Magnetic sheet of metal, such as an old cookie sheet, that will fit inside your cupboards
Spray paint, if desired (I used plain black for primer and then
chalkboard spraypaint
for a top coat)
Command sticker tape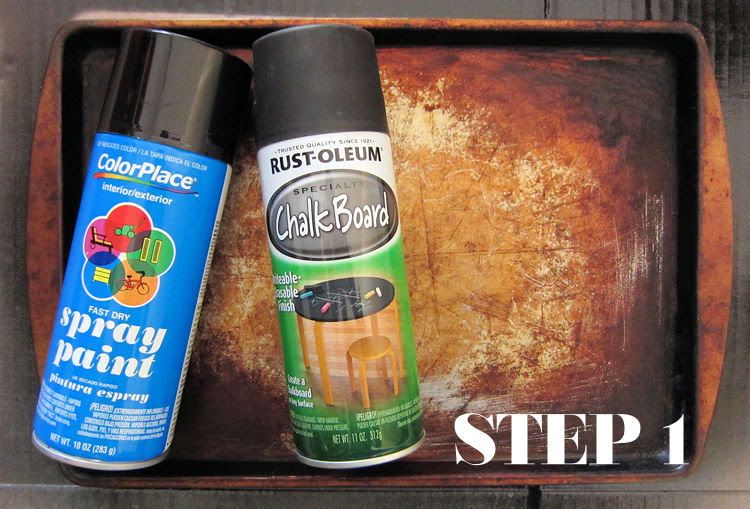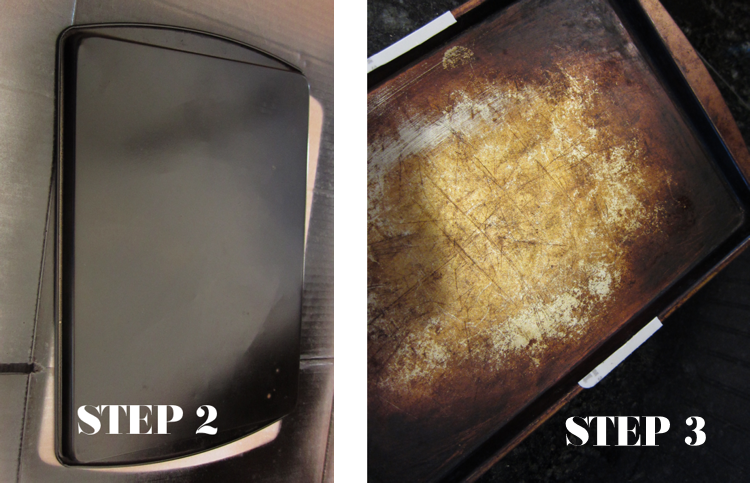 I decided to use the bottom/back of the cookie sheet for the main surface of my magnetic board, as you can see in the first photo showcasing my materials. I took a sheet of sandpaper to it for a second to rough it up. Then, I gave it two coats of black paint to act as a primer. (Mine was glossy, but flat will work as well.) Once those had both dried, I gave it a single coat with
chalkboard paint
so that I could scribble notes to myself on the board, as well. (See photo above, STEP 2.)
Then I figured out where I wanted to hang the board. Fortunately, the way that our cabinets are built, the inner shelves are not flush with the cabinet door, so there's enough space for the cookie sheet to attach to the door and it still close completely. Take those sorts of things into account when choosing your cookie sheet!
You can use any kind of adhesive to attach the board to your inner cabinet, but I chose
Command sticky tape
because it can be so easily removed. I just used one strip and cut it in half, applying one piece to each long side of the sheet, as you can see in the photo above, STEP 3. I would have put them on the handles, where there's more surface area, but our doors are inset so the handle doesn't actually end up lying flush against the cabinet. That ended up being okay because once I hung the board, that gap along the top ended up creating a nice little tray for resting a piece of chalk so that I can quickly scrawl a note to myself!
I took a couple of magnets I've gathered with handy cooking conversions and put them up there, along with a clip magnet (
like these ones
) to hold the recipe du jour, like my
Black Bean Burgers
.
And that's it. Even factoring in the drying time, the whole project took less than 24 hours and now my kitchen is one tiny step closer to being the problem-free pantry of my dreams!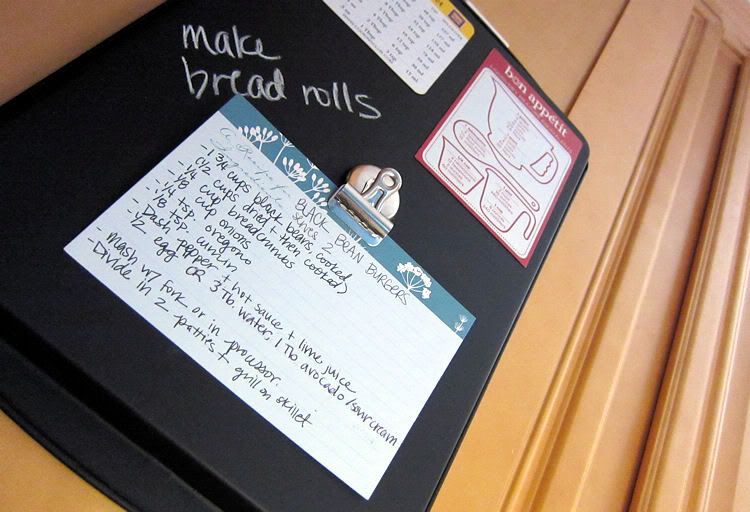 Related Posts
Sprucing Up the Kitchen With a Fresh Coat of Paint
Our Kitchen Art Gallery