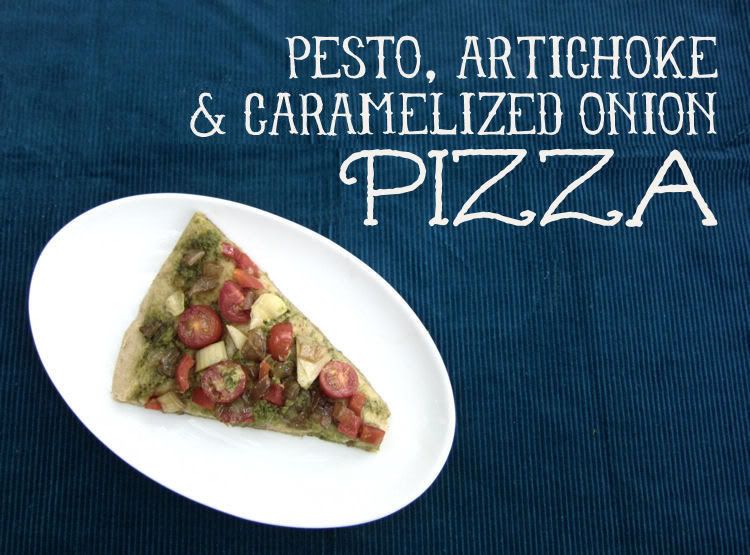 As a part of
my New Year's resolution to try cooking with a new food each month
, my challenge for the month of
May was to use artichokes
. In doing so, I discovered one of my new favorite recipes:
Pesto, Artichoke & Caramelized Onion Pizza.
While
on a trip to Washington, DC
, my husband and I ordered a similar pizza, so when we came home, I knew I wanted to try to recreate it for my Adventures in Trying New Foods challenge. So, I went to task and came up with this veggie lover delight, which you can make with or without cheese. (Really it doesn't need any additional cheese, but I'll let you be the judge of that!)
I loved it so much that I whipped up two of these pizzas in one week and then have made another almost every week since. This recipe is a keeper.
So without further ado, the recipe for how to make Pesto, Artichoke & Caramelized Onion Pizza, from making a 100% whole-wheat crust to adding the toppings. Enjoy!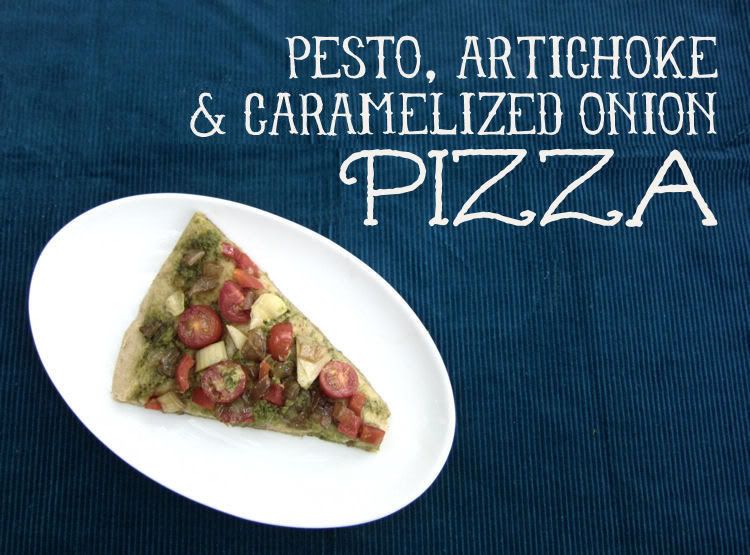 100% WHOLE WHEAT PIZZA DOUGH RECIPE
⅔ cup hard red wheat berries
1⅓ cup hard white wheat berries
Grind the wheat berries in your grain mill of choice (I use
the electric WonderMill Grain Mill
) to a fine flour, suitable for bread-making.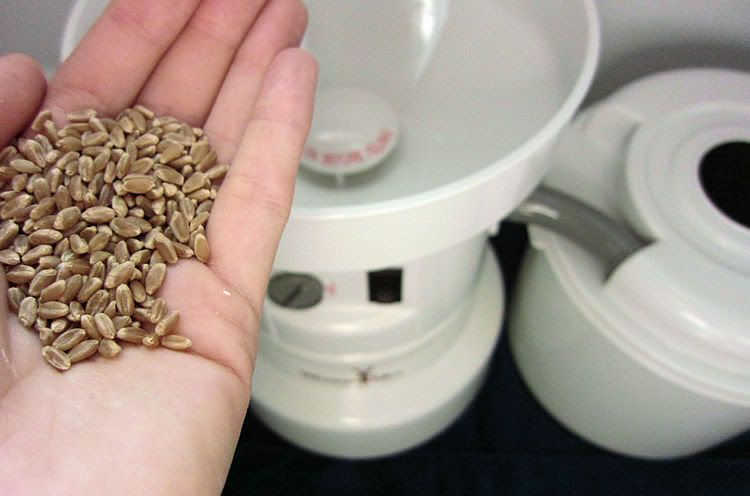 1 cup water
2 Tbsp. olive oil
1 tsp. salt
1 Tbsp. sugar
Freshly milled flour (alternatively, you can use
my recipe here
for making pizza dough with store-bought flour)
2 tsp. bread machine yeast
Combine all ingredients in a bread machine (
mine is similar to this one
) in the order listed above (meaning, add the water first and add the yeast last). For the yeast, make a shallow well in the middle of the flour and add the yeast there.
Select "Dough" setting on bread machine, and press "Start." When the dough has risen long enough, the machine will beep. Turn off bread machine, remove bread pan, and turn out dough onto a lightly floured surface. (I like to use
my trusty baking stone
for this.)
Use rolling pin to flatten dough into a disk. (It should make one 12-inch pizza, or you can divide the dough in half to make two smaller pizzas.)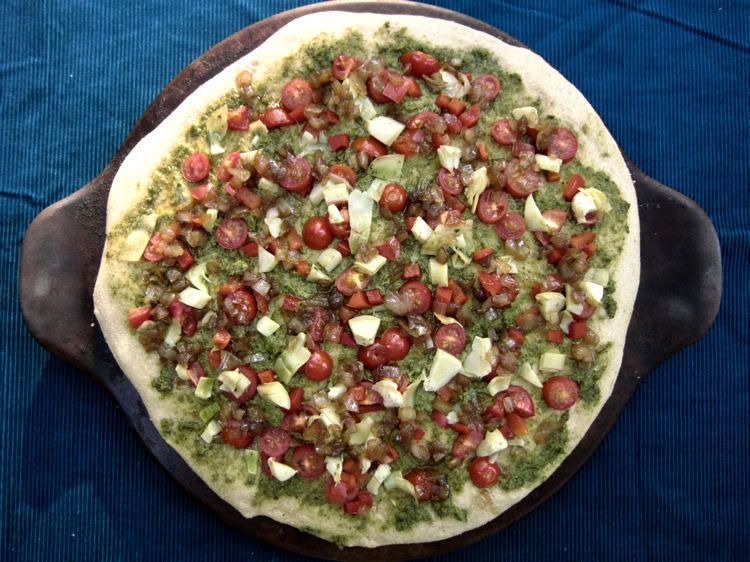 PESTO, ARTICHOKE & CARAMELIZED PIZZA TOPPINGS
1 cup onion, finely diced
2 Tbsp. olive oil
1 Tbsp. balsamic vinegar
2 Tbsp. sugar
1 cup pesto
1 cup tomatoes, finely diced
½ cup red pepper, finely diced
½ cup marinated artichoke hearts, finely diced
In a saucepan on the stove, combine the onion, olive oil, balsamic vinegar and sugar. Stir to combine and bring to a boil. Let simmer until onions are caramelized.
Meanwhile, spread pesto onto rolled-out pizza dough. Add all the other toppings, including the caramelized onions.
Bake in oven at 350 degrees for about 20 to 25 minutes, or until crust is starting to turn golden. Remove from oven, and let cool for about 5 minutes before serving.
Related Posts
Build a Better Pizza: Make Your Own Pizza Dough
A New Years Resolution: Adventures in Trying New Foods