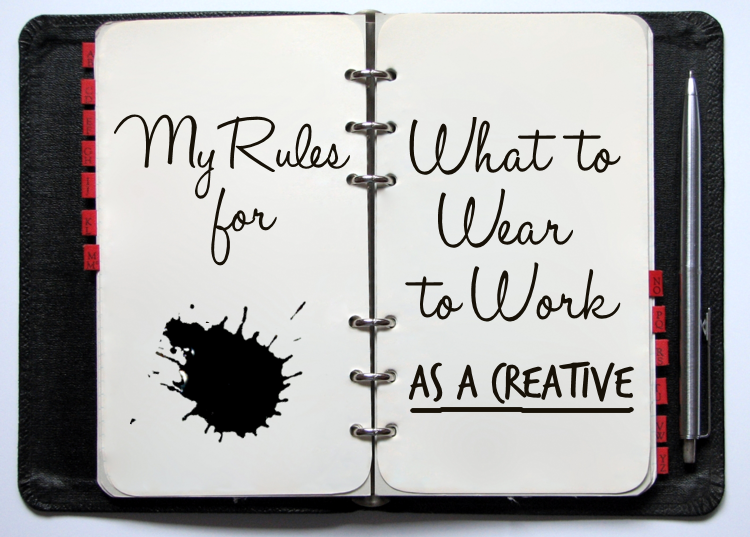 As a professional writer, there are a few rules I try to live by in the workplace. The first is that when it comes to my writing, I strive to be invisible. What I mean is that when you read what I write, I want to disappear so that all you pay attention to is the story, the emotions, the characters—not to me. You notice the writer when clunky phrasing or awkward word choices or grammatical gaffes crop up. Instead of focusing on the prose, you end up trying to figure out what the writer was intending to do there—and like the curtain being pulled back on the wizard of Oz, the magic of the moment is shattered.
The same thing can be said for dressing for the workplace. There are certain, shall we say, "underpinnings" that ought to work behind the scenes—and stay that way. The foundation of a good outfit is that it ought to call attention to the outfit itself, not what's going on beneath it. Like that whole invisibility cloak that I talked about when it comes to my writing, I think undergarments ought to play by the same rules.
When I'm wearing an outfit, I want you to notice the outfit, not what's underneath. That's why it's important to choose undergarments that don't pucker or stick out or show through. Lily of France got in touch with me and sent me a couple bras to try out, and one of my favorite things about these was that they both come with tons of flexibility—straps switch and rearrange so I can get the perfect fit to keep them out of sight while I'm showing off the other parts of the outfit that I intend to show off. (Their Extreme Options™ bra converts 62+ ways. That's a lot of options!)
The bras are also ultra-comfortable (made with special linings) so you can wear them all day without having to do all that tugging and pulling that can be so common with other bras. Plus, they are smooth and flat so that—even though they come in bright shades and prints—the bras themselves will skim over your skin without puckering. Just make sure to wear dark or heavy clothes over some of the more adventurous colors and prints! (Find out more about Lily of France's latest bras on theirwebsite.)
Now that we've got the basics covered, Lily of France wanted me to take some time to talk about my rules for dressing as a creative in the workplace, specifically about how I've learned to meld a professional presentation with just enough panache to showcase my own personality at work. That's been one of my favorite things about having worked in creative workplaces (namely publishing houses): there's not only creativity in the work you create between the nine to five of it, but there's creativity in the way you can present yourself there.
So, here are a couple examples of my favorite work-ready outfits, with Lily of France bras at the base and fun, functional pieces on top that, together, let my creativity shine so I can get back to doing what I do best: being creative.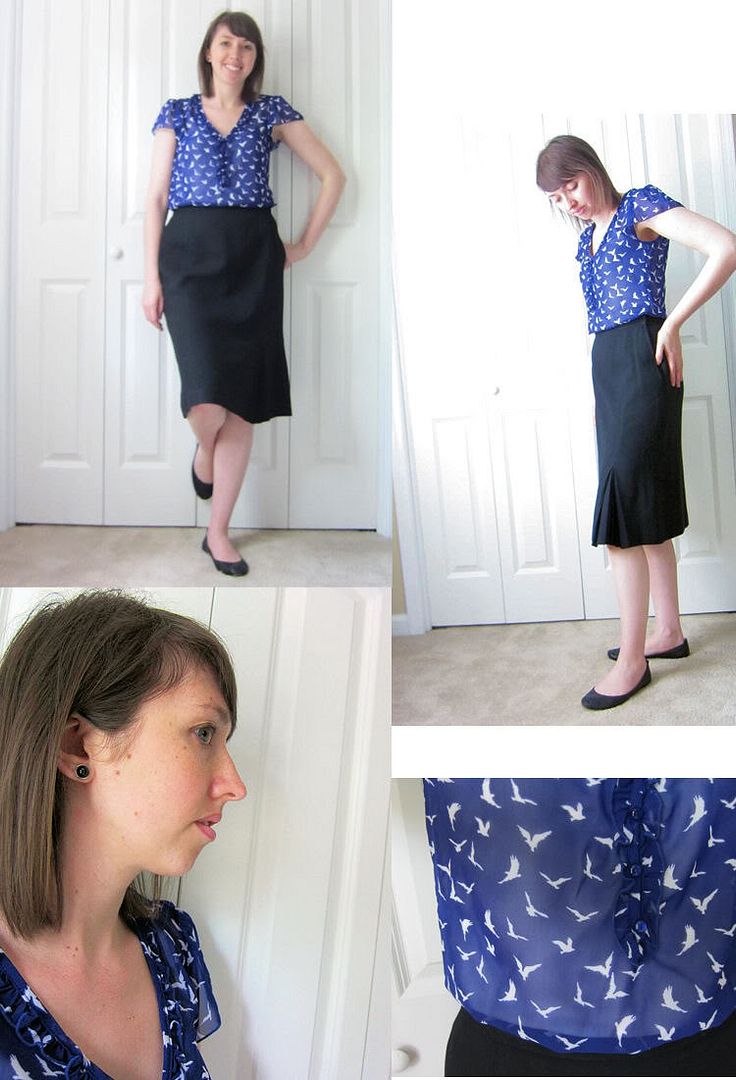 I am a big believer in figuring out what works best for your body and what you find most comfortable, and then going all out with that. For instance, for most women, workplace wear means high heels. But frankly I don't like them. So? I don't wear them. My closet is filled with flats, and I have ones in funky shades that are comfy and coy and suit me to a tee.
I also tend to shy away from high-neck shirts because I find them unflattering for my body type; instead I only buy scoop- or v-neck shirts. Because that's what looks best on me and makes me feel my best when I'm working 'round the clock. Stick to what works for you, and embrace it!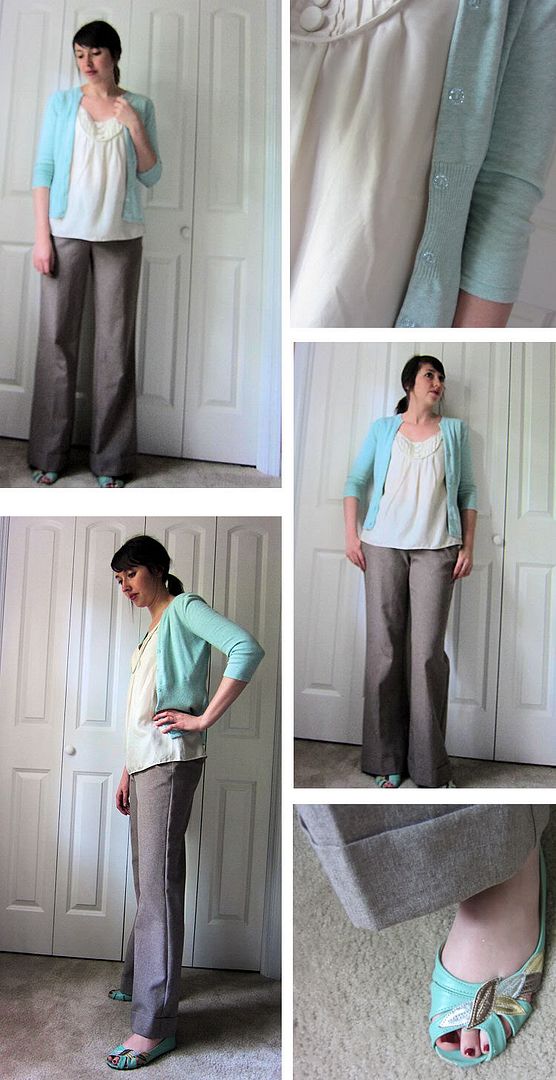 I love layering, whether it's adding a scarf or a cardigan. A lot of my wardrobe is filled with solid colors, so even if I don't mix a print into a given outfit, I can still add interest simply by layering different pieces in a limited range of colors. Figure out what your preferred color palette is and then look for items in those hues. For me, I gravitate toward navy blue, cream, dark brown and jewel-toned colors.
Even at work, I feel like an outfit should have something unexpected, whether it's a pop of color or a pattern or an accessory that makes it memorable. I tend to prefer understated statement pieces, like the shirt with a graphic bird print on it above (paired with a cute, always-appropriate skirt and flats) or the fun peep-toe flats in the second example. A lot of it simply comes down to experimenting and having fun with what you wear.
Now, Lily of France wants to help you have fun with your wardrobe, too, so they're sponsoring a giveaway for one Life Blessons reader to receive a $100 Visa gift card.
To enter, visit the Lily of France website and then let me know in a comment which bra appeals most to you. A winner will be randomly chosen and emailed, so please include a way to get in touch with you in your comment.
Sweepstakes Rules:
No duplicate comments.
You may receive (2) total entries by selecting from the following entry methods: a) Leave a comment in response to the sweepstakes prompt on this post, b) Tweet about this promotion and leave the URL to that tweet in a comment on this post, c) Blog about this promotion and leave the URL to that post in a comment on this post, d) For those with no Twitter or blog, read the official rules to learn about an alternate form of entry. This giveaway is open to US Residents age 18 or older. Winners will be selected via random draw, and will be notified by e-mail. You have 72 hours to get back to me, otherwise a new winner will be selected. The Official Rules are available here. This sweepstakes runs from 7/18 to 8/15/2012. Be sure to visit the Lily of France brand page on BlogHer.com, where you can read other bloggers' reviews and find more chances to win!