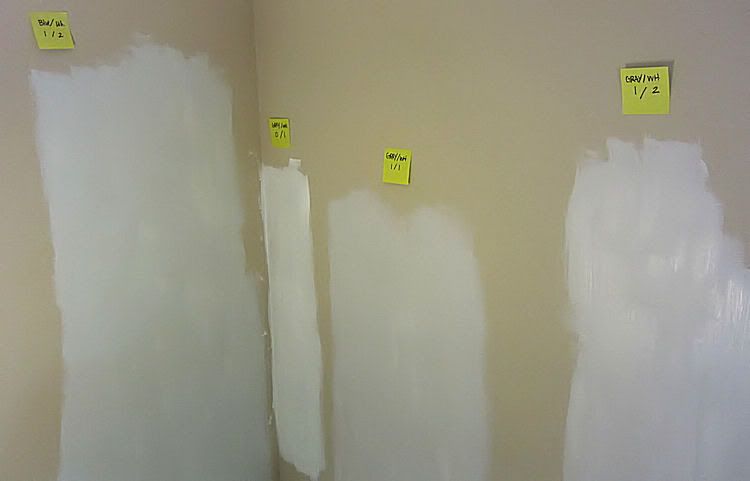 I mentioned before that in anticipation of family coming down earlier last month, I was spurred to
do some decorating in our guest bedroom
.
When we first moved into the house, this was the room where my husband and I slept
while we took our time getting around to painting our master bedroom
(which took more than a month for us to get around to!). Once we finally got moved into the master bedroom, this little room didn't get touched again until
this recent decorating spree of mine
.
First up was that I wanted to get some art on the walls. There was a bed and a small dresser and a lamp and a full-length mirror, but art is that touch that makes a room feel cozy to me. So I was playing with some ideas and taping prototypes on the walls when I discovered that the paint in the room was awful. Because even when using painter's tape, whenever I'd remove a piece to reconfigure my ideas for the wall artwork, big pieces of paint would come peeling off along with the tape, leaving the wall looking like a patchwork quilt: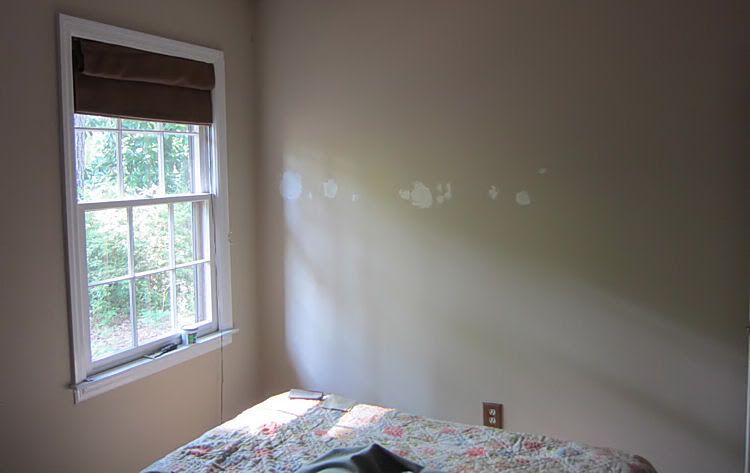 Painting the entire room became a priority. The room is small and the existing color on the wall was a dark tan (which is on nearly every other wall in this house). The tan made the room feel almost cavernous, so I knew I wanted something lighter to make this room (the smallest of all our bedrooms) feel larger, more airy, more comfy.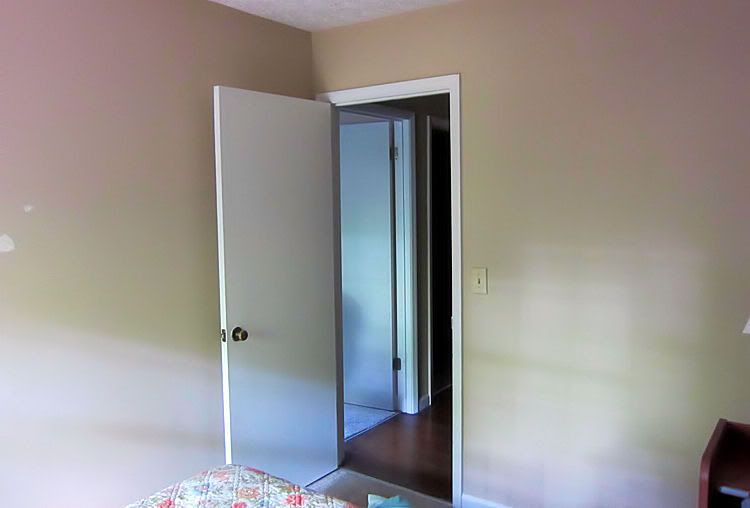 I wanted something creamy and, calling upon
the whole house palette I made
, I decided a light gray would work well and be neutral yet sophisticated enough to serve as a guest bedroom.
Which got me thinking about the fact that I still had some paint left over from
when we painted our bedroom gray
. I wondered if I could mix that paint with some white and how well that'd do on these walls? It'd save me from having to go to the store, test new colors and buy more paint, so I decided to give it a go! I'm sure this would make any paint professional scream, but it ended up working out really well.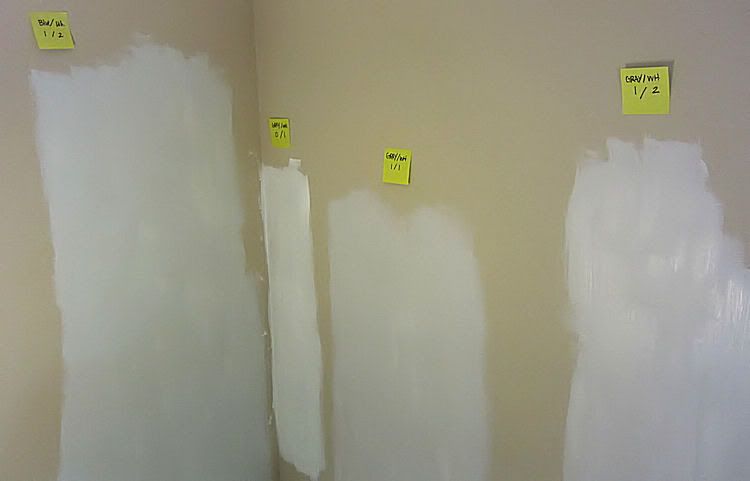 I mixed up a couple of batches and decided on a 1:3 ratio of paint: 1 part gray ("Grey Rain" from Mythic Paint) and 3 parts of bright-white primer. I just made sure to be pretty precise with my measuring (mixing up small batches) and I don't think you can tell at all that it's two paints mixed together—phew!
It's incredible how changing the color on the walls can transform a room, and I think this custom-mixed palest-of-grays accomplished that beautifully! Plus, it was kind of fun to play color-mixologist—and super exciting that it actually turned out pretty well!
I forgot to take photos of the room with just the paint on the walls (go figure!), but in my next post, I'll share some more of the process of recreating this room and then a final reveal!
Related Posts
Playing With Paint Colors: Choosing A Palette for Our Entire House
My Secret Weapon to Decorating My House