We've now lived in our house for about eight months. And over that time, we've been slowly making updates to add personality to blank walls (like when we
painted our kitchen
), decorate rooms that reflect us (like when we
gussied up the guest-bedroom
), transform furniture (like
my media-cabinet overhaul
) and lots of other projects and crafts here and there, which I've documented in full
here
.
One of the big overhauls that awaits us is taming our yard, which I talked about in
this post
. Down the road, that'll entail quite a bit of dirt and digging, but in the meantime, we decided to take on another outdoor project that was a ton easier and delivered a much-needed makeover: Staining our deck.
The previous owners had built it not too long before they put the house on the market, so it was in good, structural shape, but it still retained its raw, pressure-treated wood state that just looked unfinished, especially sitting up against the house itself, which is cedar-sided. Here's what it looked like: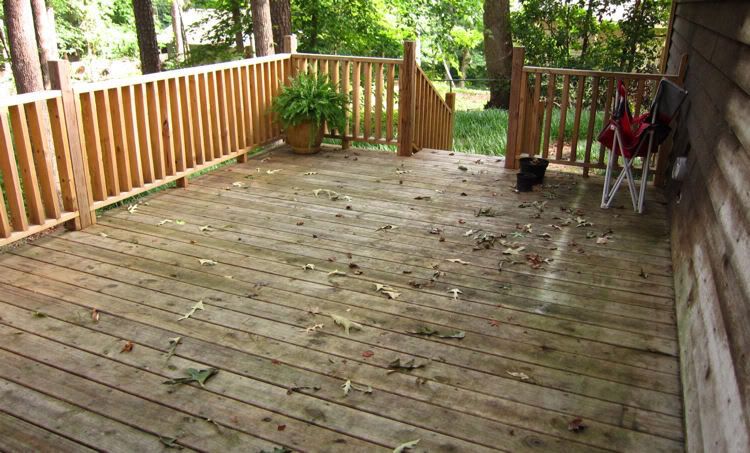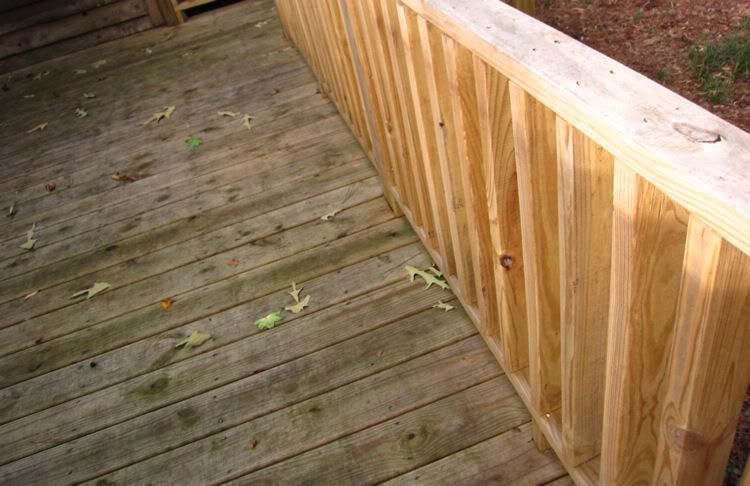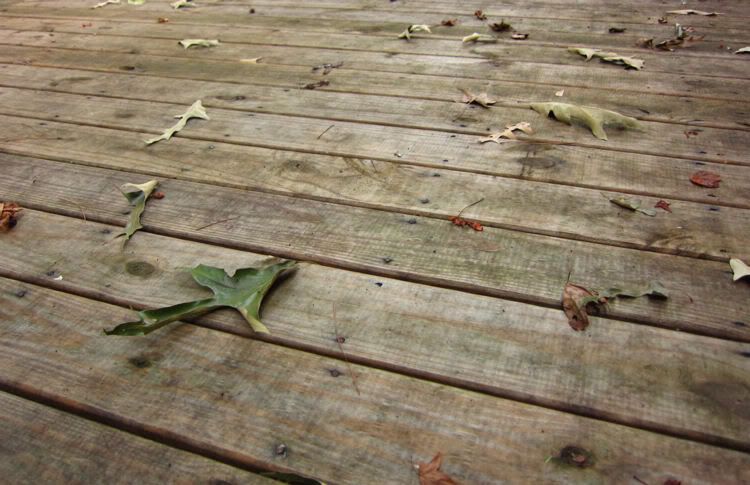 The light-on-dark wood just clashed terribly and was something of an eyesore. Plus, since the wood wasn't stained at all, it was absorbing lots of stains and molds that aren't good for it in the long-term.
So, we decided we wanted to stain it to give it more longevity and a freshly polished appearance. When I sat down to do some research, I came across BEHR's exterior deck stain products in their Premium Wood Coatings line.
One thing that immediately jumped out to me is that some of their stains are guaranteed to last 10 years on deck surfaces and 25 years on fences and other vertical surfaces. While I love a good craft, I don't want to have to spend every other summer re-staining my deck, so I was thrilled to discover this possibility!
That satisfaction guarantee comes with their solid-color stains, which go a long way to cover up any blemishes or imperfections in your wood (especially the markings that were visible on some of our pressure-treated wood) and is self-priming. It lets some of the wood grain show through, but gives it a uniform appearance. (If you do want more of a visible wood grain, you can also choose their semi-transparent and transparent stains, which come with 6- and 4-year deck guarantees.)
I took the color chart provided and tried to match the color up to our existing siding, electing to go with the Tugboat color. (There are more than 50 solid-color and semi-transparent stain hues to choose from, as well as 6 transparent stain colors—for more than 100 to give you the exact look you're going for!)
BEHR provides a complete weatherproofing line of products, including the products you'll need to prep the surfaces as well as the stains themselves. So for this project, I got some of the Tugboat solid-color stain from the
BEHR Premium Wood Coatings
line, along with their
All-in-One Wood Cleaner
.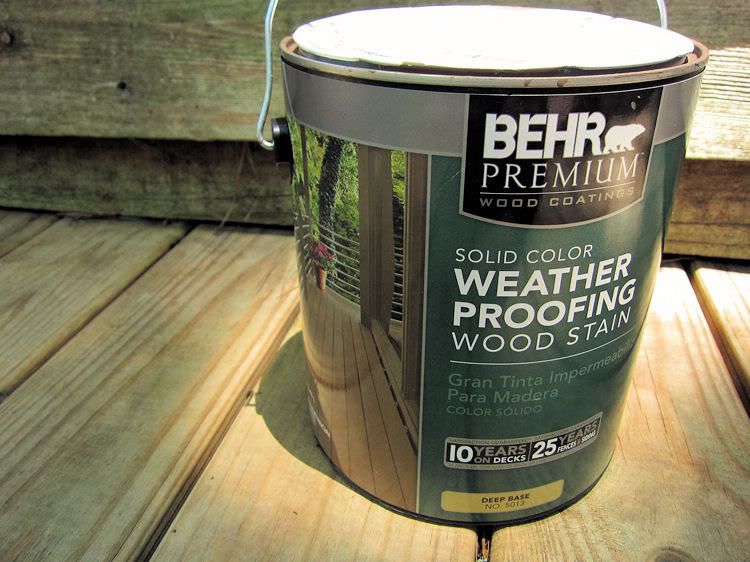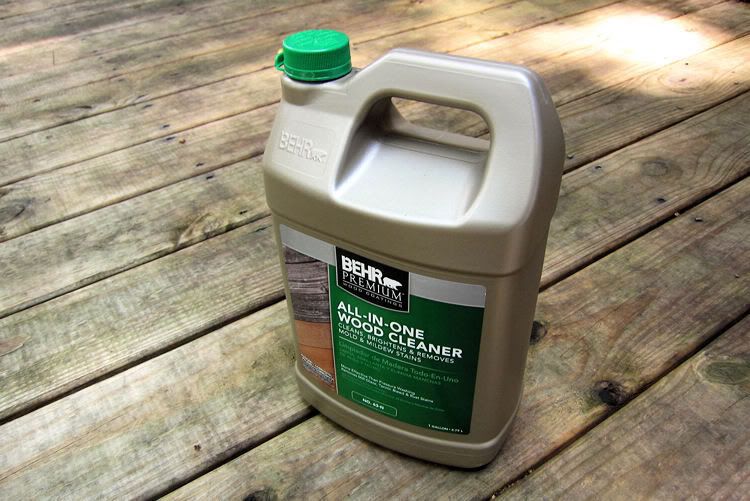 The first step was prepping the wood surface, which had gotten pretty stained and weathered from sitting unstained for the past year or so. Using the All-in-One Wood Cleaner, I mixed it up with water and sprayed it over the surface and then scrubbed it into the wood grain.
You let it sit for a few minutes and then hose it off. It's incredible the difference the cleaner made to the wood; it really did make it look like new again! (The great thing about the cleaner is that it eliminates the need to pressure-wash the wood, so no machines to rent or worry about!)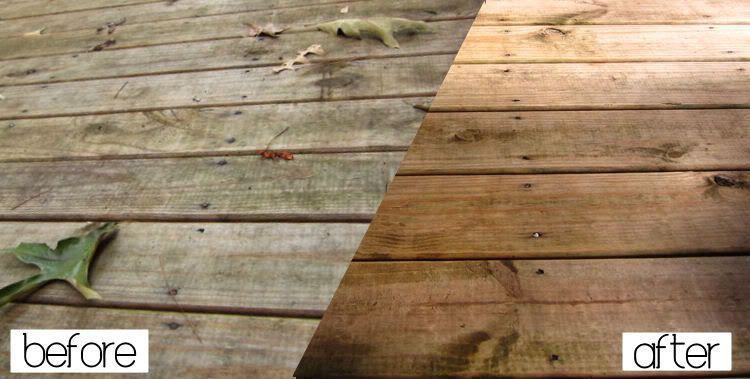 I let the deck dry sufficiently for about 36 hours before I started staining, because you want the stain to adhere to dry wood. Then, I just started brushing it on, working it into the wood grain as I went. I'd read a lot online that you have to be really careful with stains because they can leave "lap marks," but I found that the solid stain color was incredibly forgiving and I didn't have a problem with it at all. It went on smoothly and dried pretty quickly, leaving the wood a beautiful chocolate-y brown hue:
Within 24 hours, you can start walking on the deck (light traffic only is recommended) and by 72 hours, it's fully cured. I worked on it a couple hours a day over a few days, working in the morning before it got too hot (and the bugs came out!), and it proved to be a really straightforward DIY project that I was able to complete all on my own. And here's what it looked like afterward: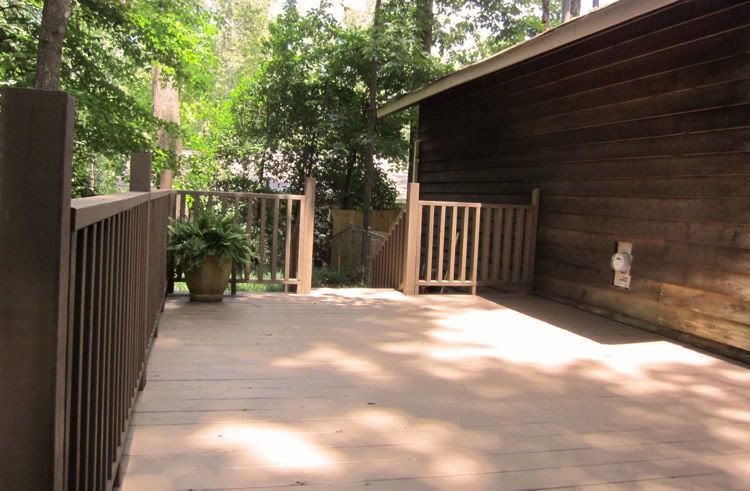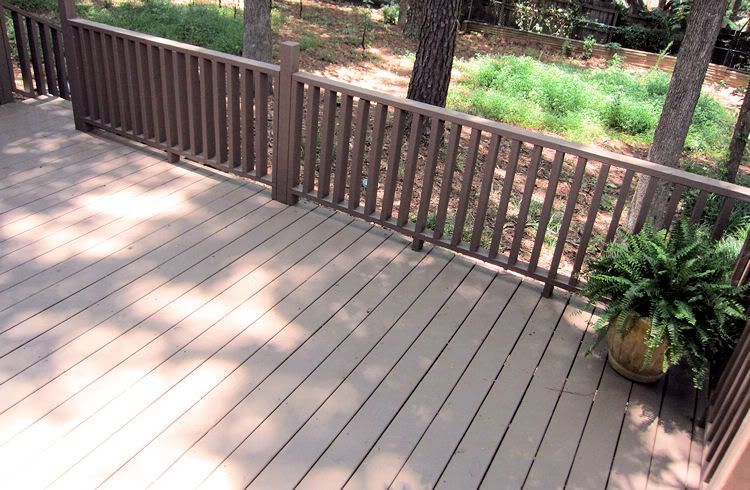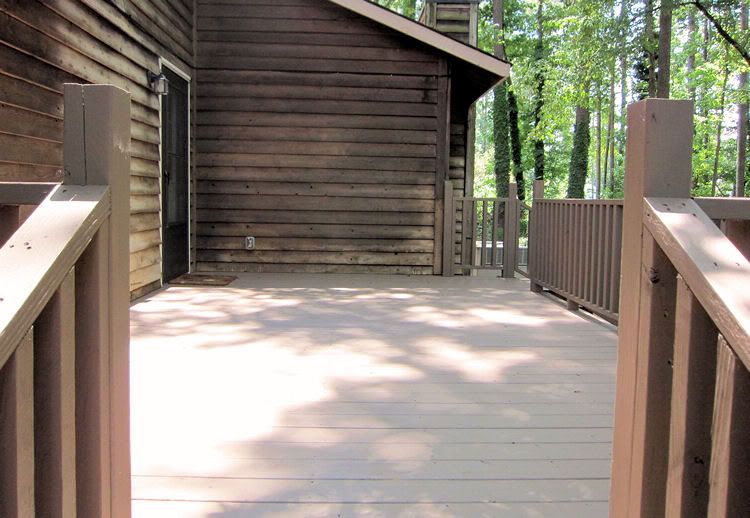 I love how professional the solid-color stain makes the deck look and how well it makes it blend in with the house.
A few days later, it rained and I was able to see the stain in action, making the water pool on the surface rather than soak into the wood itself:
Next project on the to-do list? Get some patio furniture so that we can sufficiently enjoy our new-to-us deck in style!
For more information about BEHR's complete weatherproofing line of products, visit their website here. You can also find out about all of their paint products (including interior and exterior paints) here, or you can follow them on Twitter or Facebook.