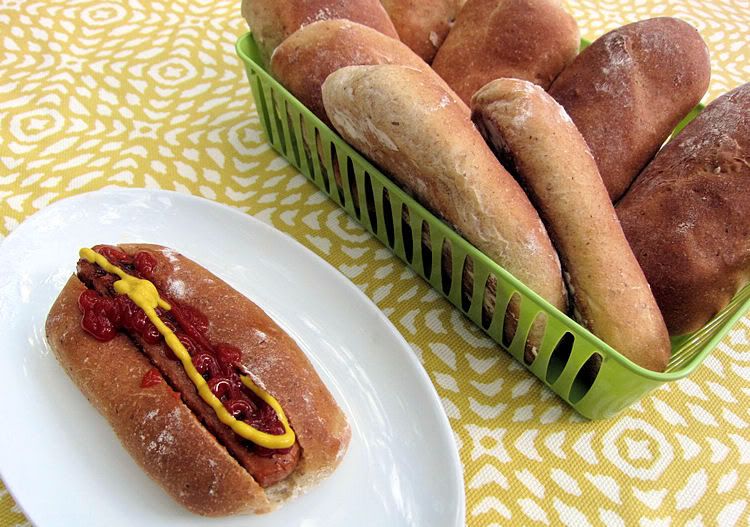 What is summer without a good, grilled hot dog? Let me tell you, it's eating that hot dog on a homemade bun!
And, it's a lot easier than you might think!
This whole wheat hot dog bun is another that takes advantage of my already-established favorite kitchen:
my bread maker
. I use it to mix together the dough, and once that cycle's completed, I can come back and shape the dough into the buns to bake in the oven. (If you're looking for some other recipes to take advantage of using a bread maker, some of my favorites include making
whole wheat sandwich bread
,
pizza dough
,
soft pretzels
, and
bagels
.)
As I've mentioned
before
, I've recently started milling my own whole wheat flour, as well, thanks to my
electric WonderMill Grain Mill
, so that I can have super-fresh flour, anytime I need it. (You can read more about
why I have started milling my own flour
in this post
here
.)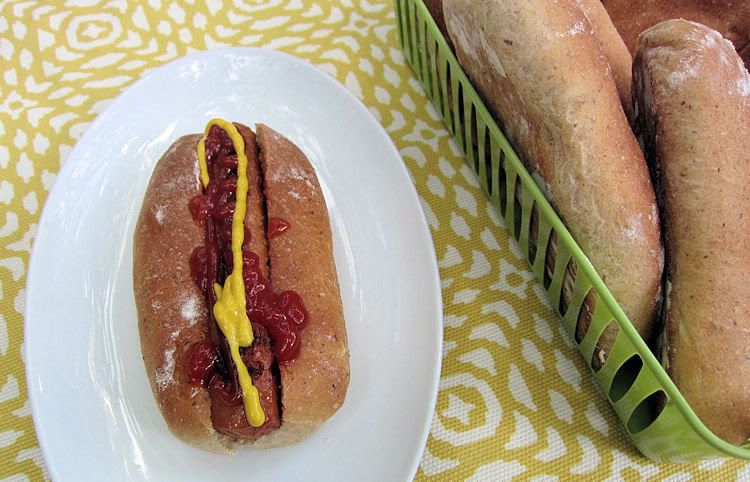 So, without further ado, here's how to bake up a batch on your own!
INGREDIENTS
1 cup warm-ish water
1 egg (if you don't have an egg handy, find an easy substitute
here
)
¾ tsp. salt
¼ cup butter, melted (alternatively, you can also use canola oil)
¼ cup sugar
2 cups unbleached all-purpose flour
1 cup whole wheat flour, preferably freshly milled
3 tsp. bread machine yeast
DIRECTIONS
If you're milling your own whole wheat flour, measure out ⅔ cup of wheat berries and grind in your grain mill of choice (I use
the electric WonderMill Grain Mill
) to a fine flour, suitable for bread-making.
In your bread machine (
mine is similar to this one
), add ingredients from the water to the flours, in the order given in the recipe. (So, you'll add the water first and the whole wheat flour last.)
Once you've added the last of the flour, use a spoon to hollow out a little dent in the middle of the flour. Into this, add your yeast. Program your bread machine on the "Dough" cycle. Press Start.
Let the bread machine mix the dough and go through the rising cycle. At the end, it will beep. Remove the ball of dough from the bread machine's pan, and turn dough out onto a lightly floured countertop. Using a dough scraper (or a sharp knife), divide dough into 12 equal pieces for regular-sized hot-dog buns. Alternately, if you plan on using jumbo-sized franks, only cut the dough into 10 pieces.
Place each rope onto a lightly floured baking stone (here's
the baking stone I use
) or cookie sheet, leaving about two inches of space between buns. (For adequate spacing, you might need to use two baking stones.)
Here's how mine looks at this point: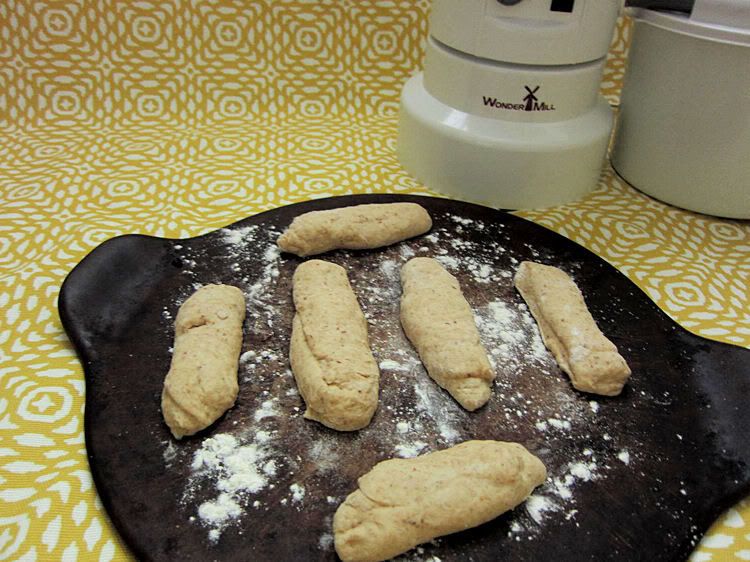 Cover dough with a cotton dish towel or cloth napkin, and set in a warm place to rise for about 45 minutes. (
For an easy way to let your bread rise, read my breadmaking tips and tricks article
.)
Turn your oven on to bake at 400-degrees. Remove the dish towel from the dough, and let it bake in the oven for about 12 to 15 minutes, until golden. Remove from oven and let cool.
Once cool, split buns in half along the top, cutting only about three-fourths of the way deep, making sure not to cut all the way through. (Meaning, both halves of the bun should still be connected along the bottom.) Then, you can slide a hotdog into the slit, like this: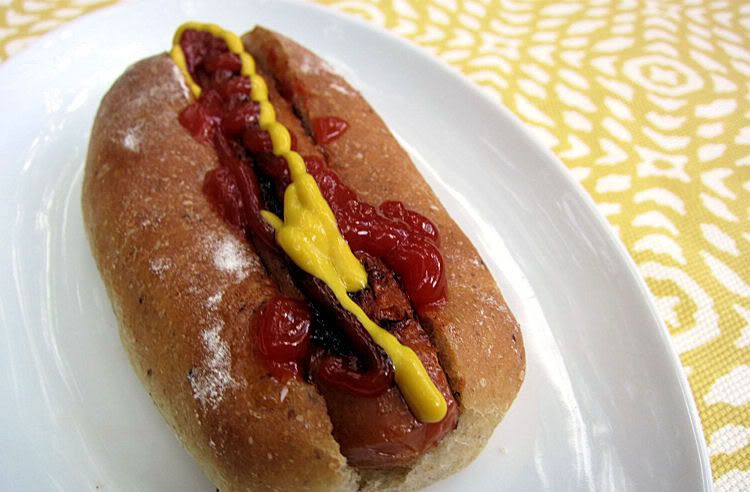 Store slices in a sealed bag or airtight container for up to a week, preferably in the fridge, or you can keep them in the freezer if you aren't planning on using them right away. Makes 12 hot dog buns.
If you like this recipe, click here to pin it to Pinterest. You can also follow me on Pinterest here.
(Plus, take a peek at
my breadmaking tips and trick article
, which will provide some good insights about how to overcome common problems, easy substitutions you can make if you run out of some ingredients, and some of my favorite breadmaking essentials.
Read the article here.
)
P.S. If you are new to this blog, thank you so much for stopping by! You can feel free to browse all my other posts about my journey toward a lifestyle of simplicity and DIY, as well as some of the ways my husband and I are learning to save money. I also write about my faith, my marriage and everything in between, which you can explore in the archives.
Related Posts
Homemade Black Bean Burgers Recipe
Chicken burgers: Recipe for the weekend